Coordination Meeting in Gdansk is Finished!
02.04.2019.
The most important part of the coordination meeting was a detailed overview of the project concerning the budget, upcoming activities, as well as the final and main product of the project which is – WEB portal "WEBEN" which will contain collections of blogs and vlogs with topics on entrepreneurship. As well as what is expected of every organization, that is, in the end, each organization should design their authentic T-shirt with a motivational message inspired by the entrepreneurial spirit. We have more precisely determined the dates and the program of upcoming activities, the clearest is certainly for the next activity: Training course – which we are organizing in Belgrade in the period between 11/05-18/05/2020.
When it comes to the program of activities themselves, we have come to a consensus with the organizations that need to organize them in their own country, in accordance with our expectations and their ideas. Emphasis was placed on learning about the business climate, the position of small enterprises, public support, regulatory frameworks, the impact of political and economic factors on new entrepreneurs, as well as what problems they face in each of these countries, and finally - what actions the organizations are going to take, themselves, in eliminating adverse factors such as unemployment and funding opportunities.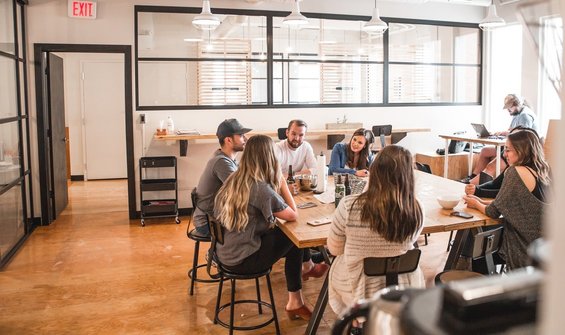 In addition to discussing and agreeing on the project, the representatives of the host organization prepared a visit for us to a non-government organization in a place not far from Gdansk, so we visited the "Social Integration Center" in Sopot, where we got acquainted with their area of work in the field of entrepreneurship and expanded our own perspective of economic and political reality in Poland. Namely, their target groups are marginalized members of society, such as drug addicts, narcotics, and also mentally disabled persons, who cannot find employment in the labor market on their own.
Therefore, they organize six-month programs, in the form of psychotherapy, internships for future work in local firms, with the aim of staying in those firms after the completion of the program. Consequently, they re-socialize them towards becoming functional members of the community, both for themselves and for others. Their statistics are encouraging, given that they have many more who have successfully completed the program and are working full-time. So this is a very significant experience, both a positive practice and an even more positive example that was useful to hear, and maybe to follow in the future.
Of course, we also managed to visit various sights in Gdansk and get to know the city better, through an organized tour with a tourist guide. He introduced to us the very old and colorful history and culture of this northern city on the Baltic Sea coast. We also visited an exhibition at the "European Solidarity Center" about the Polish democratic movement "Solidarity" which was set up during this period.
Our project partners
Partners